Digital Marketing Course with Internship
2 Months Training

2 Months Internship

 Experience Certificate

2 Live Projects
Digital Marketing course with internship is a two-month program with hand in hand training and internship.
Internship with Live Project
You can work as an intern and execute a live project for 2 months along with the course to gain professional work experience.
We will also provide a certified internship certificate from Digital Brolly after the program.
Course Fee
Rs. 20,000/- (Digital Marketing Course with Internship)
Course Duration
2 Months
Timings

Monday to Friday

(Morning to Evening) [Flexible Hours]

Course – Training Modes
Classroom
Next Batch Date
20th February 2023 @ 08:00 AM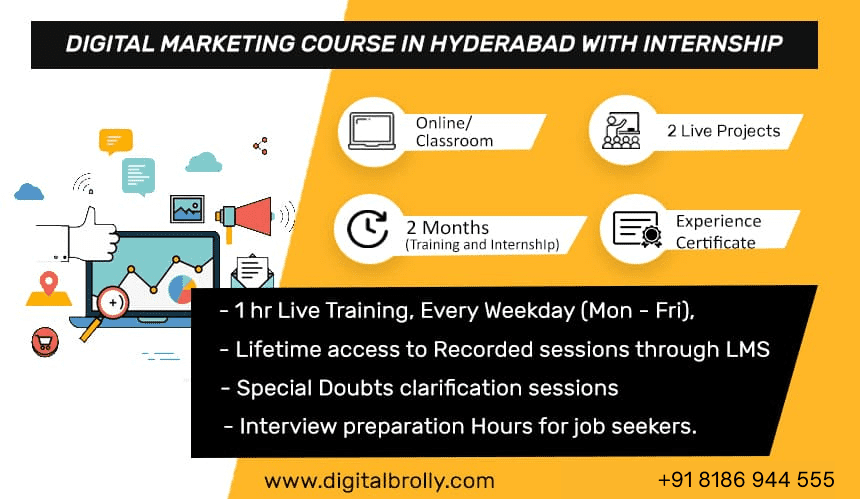 The demand for Digital Marketing is increasing by the day, with more users and businesses flooding online. Both users and businesses have resorted to online means of marketing and purchasing as it is convenient and economical. This leads the way for digital marketing, allowing more scope and demand for digital marketing.
Post pandemic, things have changed drastically with more Businesses utilizing technology and digital platforms for the sustenance of their brand.
Acknowledging the demand for digital marketing job openings we have come up with the best digital marketing internship in Hyderabad which focuses on both Digital marketing course training as well as real-time live project internship.
Our Digital Marketing Course with Internship Program consists of 35 Modules with a 60 min class everyday from Monday to Friday. You can join the internship along with the course for two months duration.
During the 2 months of internship program at our institute, you will be working on live projects wherein every concept that you learn will be executed practically by you. After the completion of this internship, you will be given an Experience Certificate. We will also provide 100% assistance  to get placed in a good company as a Digital Marketer.
Internship Work Experience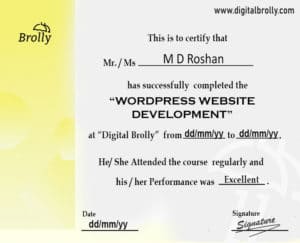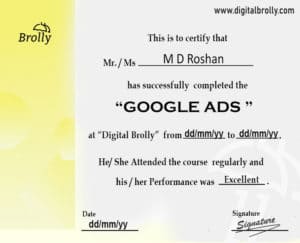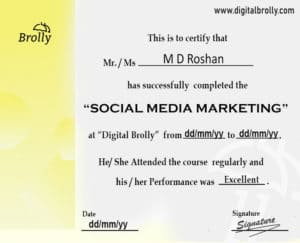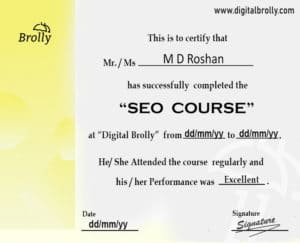 Here are the students that have got placed through our Digital Marketing Course with Internship Program. This program purely focuses on making the candidate employable by giving them all the practical and theoretical training required to excel in digital marketing.
Reviews on Digital Marketing Course With internship

This is the best training institute in Hyderabad to do an internship and get work knowledge. They offer internships with live projects and also provide placements after the completion of the course

It's a great place to learn Digital Marketing where I have gained real-time work experience. Along with classroom sessions, they are providing internships on live projects. The infrastructure is very well. Along with the internship, the lab session is pretty awesome where you can clear all your doubts regarding any module. Thanks to team Brolly

It is a great place to learn digital marketing as it has given me so much knowledge and has refined my skills very well. It is a well balanced course and focuses on every aspect of digital marketing theoretically and practically. 😊

Perfect institute to learn digital marketing .I have learnt many things in digital marketing. The course fee is quite affordable by anyone. I like the way our Ravi Sir teaches and his teaching skills are perfect. I got a job in SUAA Ecommerce Professional LLP as digital marketing executive. In internship I had gained experience in SEO,SMM,SEM and YouTube marketing and we can also learn many online money earning works. Now I am happy in this field and am developing a digital marketing career.

Digital Marketing course was super. Really very good training for digital marketing course in Hyderabad. The faculty is well experienced and the training methods are awesome. I strongly recommend Brolly, the best digital marketing institute in Hyderabad.

I would like to thank Mr. Ravi Varma for all his support and the quality of training he has provided. Due to the training and resources provided, I was able to learn the most useful aspects of digital marketing. Furthermore, the course was informative, which helped me in understanding the various concepts and strategies that are used in digital marketing. Moreover, the one month internship was also quite enjoyable and challenging too. I certainly recommend Mr. Ravi Varma and Digital Brolly as your one stop solution for all your digital marketing training needs. The career guidance, interview preparations and mock interviews further helped in understanding the digital ecosystem and being prepared. All in all, I can proudly say that Digital Brolly was a great decision which helped me in reaping great benefits.

The entire experience was a very positive one. I felt that all staff members were always available and doing their utmost to help in anyway possible. A very welcoming place. The course itself and the tutor Mr. Varma were very insightful.

Digital Brolly is one of the best institute to learn Digital Marketing in Ameerpet – hyderabad with very less cost. Very good teaching and learnings from the trainer Ravi Varma with all the support and doubt clarification. Over all very good institute to learn DM.

What do you call a team of passionate instructors thriving to achieve a common objective to bring world class curriculum to learners by simplifying it for even the novice: Digital Brolly!! If you are looking at learning without any fancy frills, please do visit them once to know why I recommend them strongly (a free demo class can be arranged for this) & if you are looking at fancy class rooms or low rates of course (for which you have atleast 100 options which teach only theory or have limited knowledge hence the charges or have Digital Marketing course as one of the courses) then this is not the place to be! They also " assist" you with placements therefore look no further!☺

I've never completed a course like this before (remote instruction) and I cannot express how great the (Mr. Ravi Varma Sir) was and the overall content of the material. I highly  recommend  this course to my co-workers and  friends as well. He is one of the Best Digital marketing training in Hyderabad & I am very happy to be a family member of digital brolly.

I'm thankful to the team of digital brolly they have helped me a lot. I was able to work on a live project. Because of the internship, I gained more confidence in the topics of digital marketing. The team helped me clarify all small doubts also.

I have been working on my website and whenever I faced any difficulties the team was available to help. I appreciate the hard work of the trainers of the digital brolly. This is the best institute for digital marketing course with internship.
Let us help you to build your career in Digital Marketing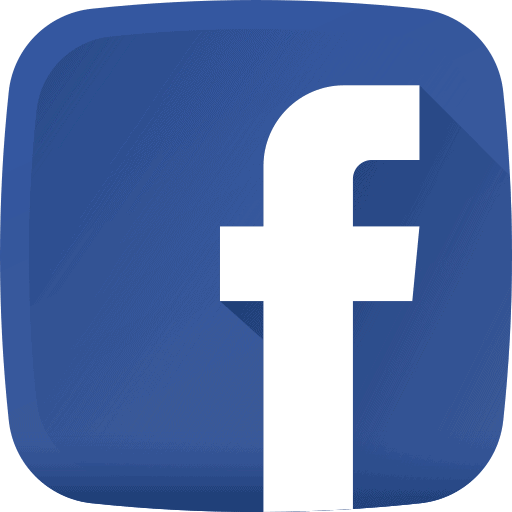 Facebook Premium Group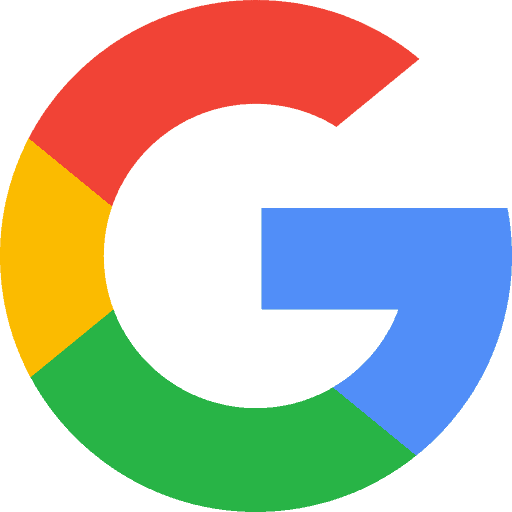 Google Certification Support

Internship Certificate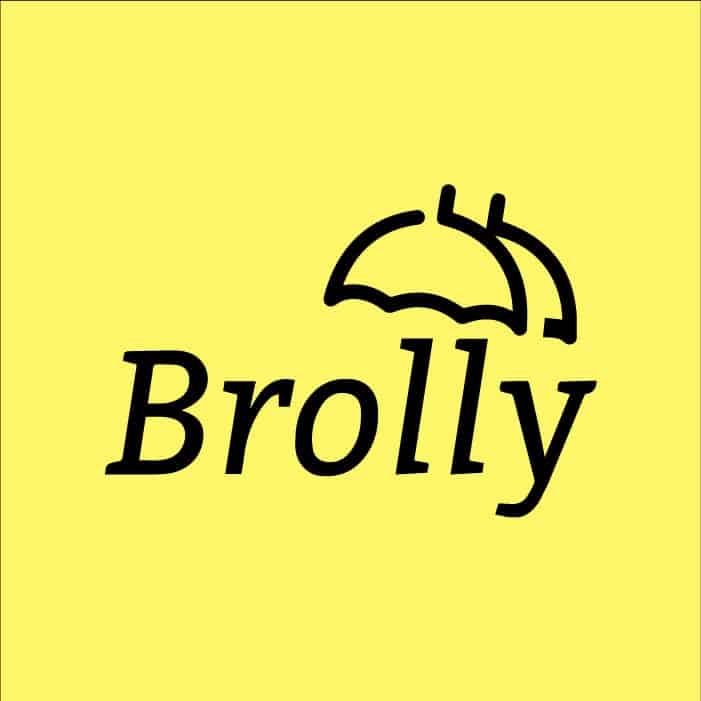 Digital Brolly Certificate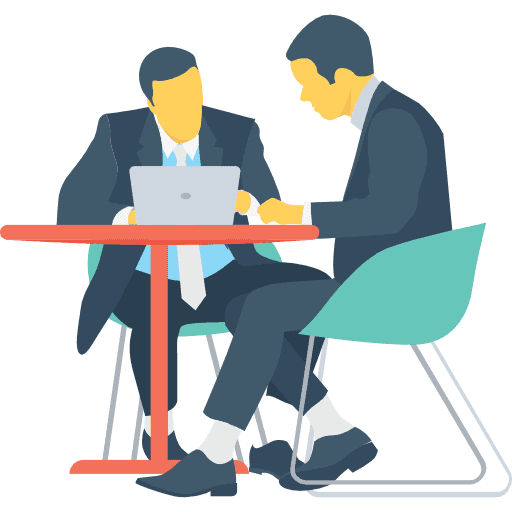 Post training support from experts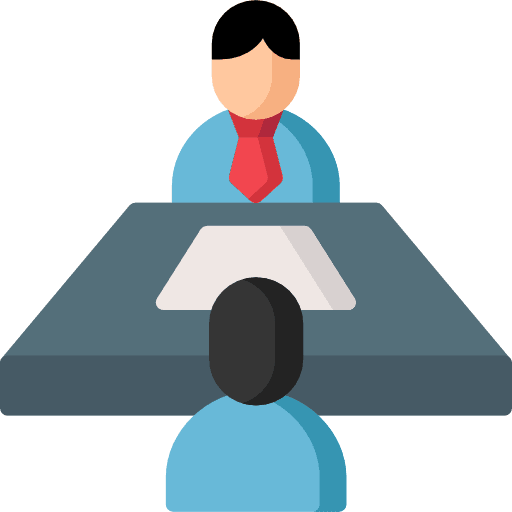 Mock Interviews
Here is why you should join our Digital Marketing course with an internship program.
Live projects
Free demo
Practical Demonstratio
Real-Time Project Exposure
One time payment with 1 year access.
Free Soft material Provided.
Topic PPTs will be shared
Brolly Training Certificate.
Google Certification Support.
Special Job oriented Sessions.
Free Interview preparation classes.
Mock Interviews.
Internships for Selective/well performing students.
100% Job Support.
Experience Certificate as per candidature.
Free Backup Classes
We believe Digital Brolly in Hyderabad is the right platform for an Internship program in Digital marketing. With our country evolving digitally, There are more than 1 lakh new job openings in Digital marketing every year.
This internship focuses on Live and Real Time Projects which give you the exact work experience exposure you need that is very rarely offered by other institutes. With an internship at Brolly, your chances of getting hired are high as more priority will be given to your work experience and skills.
Our Digital Marketing Course with Internship covers both, business and Job Aspects. This course includes all the 30 modules, and 225 topics as mentioned in our Curriculum.
We don't just restrict ourselves to Digital marketing training but also give you Digital Marketing Projects.
We will also help you create a perfect resume, conduct mock interviews and discuss interview questions during the class. We will also refer your profile to the companies that we have partnered with to improve your chances of getting hired.
After the completion of the Internship for 2 months, you will be given an Experience Certificate for your work with Brolly.
Call +91 96 96 96 3446 for more details on our Digital Marketing Course with Internship program.
Enroll for a FREE DEMO for Digital Marketing Course with Internship
Here is the list of people that can attend our Digital Marketing course with an internship program.

Digital Marketing Career Aspirants
Traditional Marketing Professionals
Bloggers
Small Business Owners can improve the ROI for your business
Web Developers and Content Writers
Job Seekers, people looking for a job in Digital Marketing
Professionals that want to learn Digital Marketing for a job change
Students can learn digital and start earning online using Digital Marketing
Sales professionals can accelerate your career leaning Digital Marketing
People looking to generate a secondary source of income
Public Relations Manager or a Brand Managers
Enroll for a FREE DEMO for Digital Marketing Course with Internship
Reasons - Why you should join our Digital Marketing course with Internship?
You can excel at digital marketing only when you practice the given techniques and we at Digital Brolly give you an opportunity to do that. Our internship program will get you the hands-on experience regarding various scenarios and real time that pose marketing challenges. The needs of the marketing change as per the business needs, location, industry etc and we train you well enough to handle that. Digital Marketing is a course that can only be learnt diligently via practical methods. You will get support and assistance from our Digital Brolly team while working on live projects. We assure to make the training interesting and exciting for our students.
Your confidence improves only with practical knowledge and skills. The many modules in Digital marketing give you the opportunity to specialize in the technique that best suits your interest. Throughout the course of the training, we will observe and analyze each student's performance and help them excel in the technique of their choice. This not only benefits your skillset but also imbibes a sense of confidence is required as a Digital Marketer.
Confidence that a Digital Marketer needs
Boost your Digital Marketing Resume with your internship experience
Working as an intern at Digital Brolly will improve your chances of getting hired by the best companies in Hyderabad. It will also add credibility to your resume giving it a professional appeal and it is a known fact that most of the companies prefer candidates with prior experience.
You will learn many things by making mistakes and learning under the supervision of our experts will really hone your skills. You can explore by practicing the techniques during the internship .
"You don't learn to walk by following rules. You learn by doing, and by falling over."― Richard Branson.
Failing helps you to become a better professional and forces you to think out of the box which is a key attribute to a Digital Marketer.
Individual student attention
Boost your communication -
Enhance your communication skills while working as an intern. You will learn how to interact with your colleagues, the terminologies included and much more through your training. This will give you a fresh perspective, simultaneously building your communication skills.
You will understand the roles and responsibilities of a digital marketer and its specializations. The "what,when, how" will be addressed along with
the conditions of the market. We will familiarize you with the responsibilities of each role in digital marketing and train you accordingly.
Understanding and Responsibilities
Conclusion 
If you are a college student or fresher, an internship is very important to get a job from the reputed company. Starting with internship is a beneficial way for starting off a great career 
Increase your professional network, contact with professionals, as it will help you in the competitive job market.
 Our Other Courses