Free Google Adwords Tutorial - Google Ads Types & Process 2023
Google Ads plays an important role in Digital Marketing. In this blog Free Google Adwords Tutorial you can learn what is Google Ads and how they are useful. And also given detailed information about how to run a Google search Ad campaign.
Free Google Adwords Tutorial - Google Ads

Google Ads are Google online advertising platform where advertisers have to pay to display their Ads on Google Search Engine Results Page and other Google partner websites. It is also known as Paid Ads.
Google Ads  work like an Auction system, it works when the user carries a keyword research. Quality score and Bidding decides the position of an Ad in Search Engine Results Page.
 Google Ads has 2 Networks:
1. Search Network: It shows ads on Google search engine results page (SERP), Google Maps, Google play and some other Google search related networks.
2. Display Network: It displays ads on  Google sites like Youtube, Gmail and other third party sites of Google.
Google Adwords Tutorial - Types of Google Ads
 There are different types of Google Ads:
1. Text Ads: Ads appear on Google Search Engine Results Page (SERP). These text ads are used to promote products or services by advertisers.
2. Text Ads with Extension: It displays ads with extra details like address and phone number etc. Text Ads with Extension is also called as (ETAs) Expanded text Ads. In this Ad you can write three headlines and two descriptions.
3. Responsive Ads: Ads  display according to the screen size of laptop, mobile etc. And in these responsive Ads you can write up to 15 headlines and 4 descriptions which results in better reach allowing A/B testing which saves time by not creating separate ads. Google will try different types of compilations/combinations of provided headlines and descriptions which is unique and relevant to query. Out of all the provided google will choose 3 headlines and 2 descriptions to show different combinations of ad.
                               a. Responsive Search
                               b. Responsive Display
4. Showcase Shopping Ads: It appears when a user searches for any product. These advertisements differ from the product ads and have less reach but the bonus point is that the audience is targeted as these will be shown to a user for a particular thing like sofas.
5. Image Ads: Ads appear in the form of images in 3rd party sites. These run on google display network which means you can target where they visit frequently. These image ads are also known as display ads.
6. Video Ads: It shows ads in YouTube and other video platforms. Video ads are the best option for you if you have the budget. These ads have high Return on investment (ROI).
Ex- skippable, non-skippable, bumper and discovery ads.
7. App Promotion Ads: These ads are used to promote mobile apps. As we can understand this ad is for promotion of apps for installations. These ads can run on google play store, google search, display network, google discover and on YouTube as well.
8. Call only Ads: It is used to add a mobile number, whenever a user clicks it connects the call. For this ad also you can add headline and description.
9. Rich Media Ads: Rich media ads are the ads beyond text where a user can interact and engage.
It contains both image ads and video ads ex- Gif ads. 
10. Dynamic Search Ads: Dynamic Search Ad is a automated ad that can be generated from your website's content but the condition is the website should be developed and have different products with relevant content. This Ad helps your business by showing relevant of a product or service offered by your website. As this ad is automated control over the ad is less. If you offer single category of products you can these to google product feed for creating ads like these.
11. Product Shopping Ads: Product Shopping Ads show ads for a particular product which are on sale. All these product related information is collected from Google merchant product feed which you provide these ad will be working google shopping, search partner website at the top of the search results page.
1. Structured Snippet Extension: It highlights your product or service by additional information. 
Each snippet contains header and some other features to highlight. They mainly increase ad performance by giving more options for people to click.
2. Site Link Extension: It displays extra links below Title, URL and Description. For one ad you can add up to 4 additional links. 
The use of this site link is when someone clicks or taps on your links then it redirects to the information what they are looking for. 
3. Call Out  Extension: It allows you to add additional text. You can add extensions like 1 day offer, Free shipping, Easy return option, 24 hours service etc. It gives detailed information of your business when users click on these extensions.
4. Location Extension: Helps businesses to  show their address, mobile number and map location. It shows directions to customers through a map to reach the location.
5. Call Extension: It allows you to add your mobile number. By using this call extension customers directly make a call to your business for detailed information about your products or services.
6. Mobile App Extension: It allows you to link your mobile or tablet app from your text ads. People may clock either on your headline or on the link to your app. 
Adding app extension is advantageous because the user experiences both the website and app with a single ad.
7. Price Extension: It shows the price of the product or service. (Ecommerce). It is present below your text ad on desktop and mobile. It gives the details about your business offers.
8. Promotion Extension: It shows below the ad and it is an easy to read format that attracts your potential customers. Promotion extension shows your offers in mobile and desktop formats. It is used to attract customers that are searching for special offers related to your business.
CPM: Cost per 1000 Impressions.
VCPM: Viewable Cost per 1000 Impressions.
CPC: Cost per each click.
CPV: Cost per View.
CPA: Cost per Acquisition
Important terms in Google Ads
Impression: Number of times Ad appeared.
Clicks: Number of clicks an ad received.
CTR (Click Through Rate): (No of clicks/ No of impressions) * 100.
Cost: Total amount spent for a campaign.
Conversions: Number of times you reached your goal/ objective.
Conversion value: The value of each conversion * total number of      conversions.
Cost/Conversion: Total cost/ Total number of conversions.
Conversion rate: (No of conversions/ No of clicks)*100.
Conversion value/ cost: Conversion value/ total cost.
Types of Keywords in Google Ads
1. Broad Match: It increases your reach by triggering the ad even if it contains misspellings, singular or plural forms, synonyms.
It is used to reach a large number of audiences. Large number of people search for broad matches because of their nature. 
Broad match keywords are the most used type by users whenever searching on Google for a part keywords.
2. Broad Match Modifier + : You have to add + sign before the keyword. It represents that the keyword should be a part of the search query.
This modifier allows your keyword to match with a wide range of probable keywords.
3. Phrase Match " ": Ad appears when a user searches exact targeted phrases or with close variations.
Phrase matches are more chosen than broad match keywords but less when it comes to exact match. This keyword is widely used to get more traffic to your website.
4. Exact Match ( ): These appear when the user searches for exact search queries. These are exactly opposite to broad match keywords. 
Close variants of exact match keywords help you to connect with people who are looking for your business.
By using exact matches your ads appear when the meaning of user search  matches the meaning of your keyword.
5. Negative Keywords – : It prevents displaying your ads whenever users search for specific keywords. 
Negative keywords are special keywords that are included in the list of keywords which are used to filter out the unwanted visitor traffic you might get, hence the ads are invisible for the users who are searching for specific keywords
Free Google Adwords Tutorial - Google Ad Campaigns ​
1. Search Campaign:
It shows ads in Google Search Engine Results Page (SERP), whenever a user searches for relevant keywords of your site for any product or service. It increases your site traffic, leads and conversions.
Mainly used to find potential customers with the right set of target keywords. Here ads will be visible to people whenever they are searching for any product or service.
2. Display Campaign:
These ads appear on Google display network. It is also called banner ads. Display ads can appear in many different sizes and formats on different websites. Mainly used for brand awareness.
Display ads are visible on the Articles, videos and websites while browsing. In this you have a targeting option. Select different topics, demographics, different audiences etc.
Display ads are mainly used to create brand awareness.
3. Search with Display opt-In:
These campaigns display your ad in both search and display networks.  It shows text ads on search engine results pages and also shows relevant websites on display networks.
It has 2 advantages: reaching potential customers and at the same time used to create brand awareness.
4.Video Campaign:
Video campaigns allow your ads to display on Google video partner platforms like YouTube etc.
Ex- skippable ads, Non-skippable ads, Discovery ads, Bumper ads etc.
Video campaigns are used for better reach and engagement.
5. Shopping Campaign:
It gives detailed information about your product to users and displays your product image, price, brand etc for more clicks and conversions. 
Shopping campaigns help local stores to drive more traffic to their website. Shopping ads appear on search engine results pages and other Google search sites.
6. Universal App Campaign:  
It is used to promote your mobile apps. It promotes your apps across search, display and video networks.
With app campaigns your ads and bids are adjusted automatically to get more app downloads.
Here ad requires text, starting bid, budget, language settings and geographic location to your ad.
It checks the different combinations and displays the best performing one.
These blog is about Free Google Adwords Tutorial. If you want to learn Google Ads, Ravi Varma is one of the best trainer in Hyderabad with 7+ years of Industry Experience.
Search Ads from Basic to Advanced
Search Ads- Ads will appear on Search Engine Results Page and other Google partner search sites, it happens when people search for keywords relevant to your site. These Ads mainly run to increase traffic, conversions and sales.
Here I can explain how search ads work and why they are so powerful.
Let me explain with you an example: suppose I'm searching for "Digital Marketing course in Hyderabad" in Google Search.
Here Digital Marketing course in Hyderabad is my keyword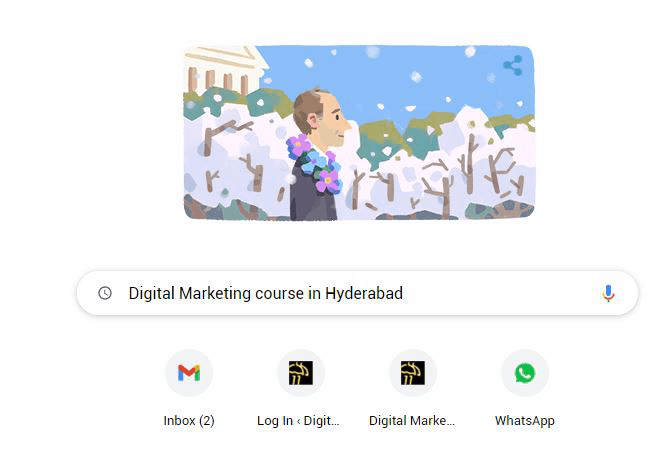 People type  keywords in Google search bar and Google shows the search results.
According to my search Digital Marketing course in Hyderabad it shows the below results.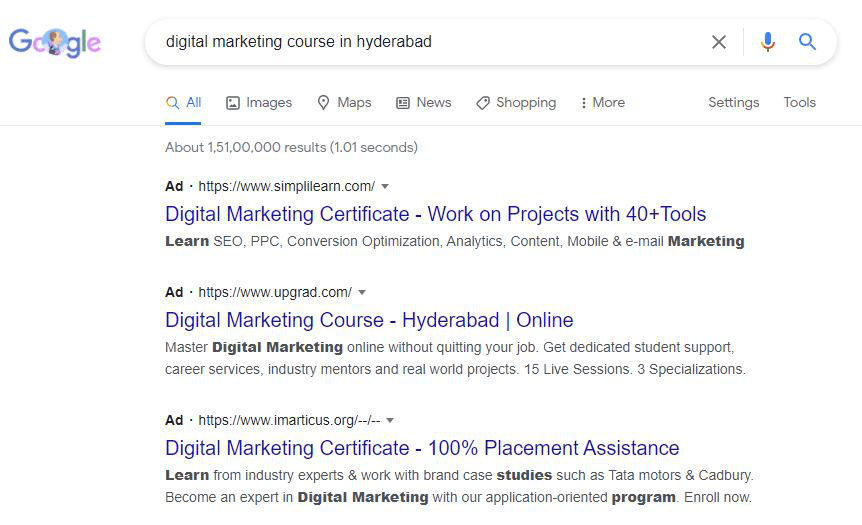 Look closely it shows Ad in the front of the URL. It means that someone paid to appear here on the first page of Google when someone types the Digital Marketing course in the Hyderabad keyword.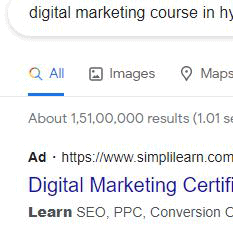 In the search engine results page  2 and 3 results also showing ads, they are also paying to show their ad for the same keyword.
Below the Ad results there are websites shown number wise that are called organic search results, they didn't pay to appear on the search results. Google thinks the keyword is more relevant and shows this website organically.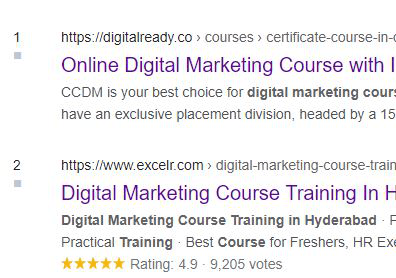 What happens if someone clicks on Ad
When I click the Ad then I can land on the website of any product or service. Suppose if I like it, then I can buy or use their service. But for the advertiser who put the Ad here they will have to pay for my click.
For each click they have to pay some amount which was fixed previously in Google ad campaign. The amount depends on what they are bidding and also depends on Google requirements.
Suppose If an advertiser spends 100 INR for each click on a Digital Marketing course in Hyderabad keyword. For 100 clicks he spends 10k. In these 100 clicks one of those people showed interest and joined the course by paying fees of 20k.  For 100 clicks they will pay 10k INR to Google and the remaining 10K INR is their profit. 
Here the profit margin is 10K, that's how you can do good paid and profitable advertising on Google. Make sure you have to sell good products and offer good services so that you can get more conversions with less clicks.
With the help of Google Ads we can reach our potential customers whenever they are searching for relevant keywords. By doing this our ad is visible to them based on the keyword.
According to the buyer's intent of the specific keyword the ad displayed.
It targets the people with the right ad at the right place at the right time.
You can analyze the campaign by pause and play option and make changes in budget and other settings.
How to create a paid search ad campaign
At first, type Google Ads on Google search bar and then click on Google Ads official site.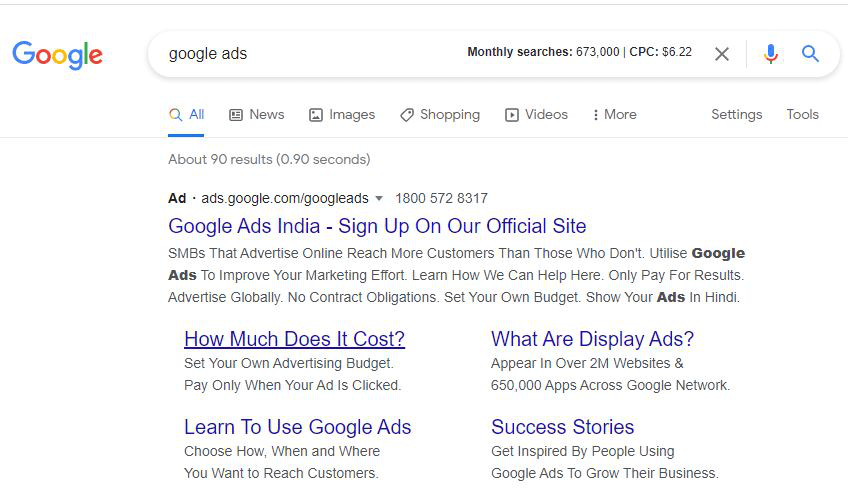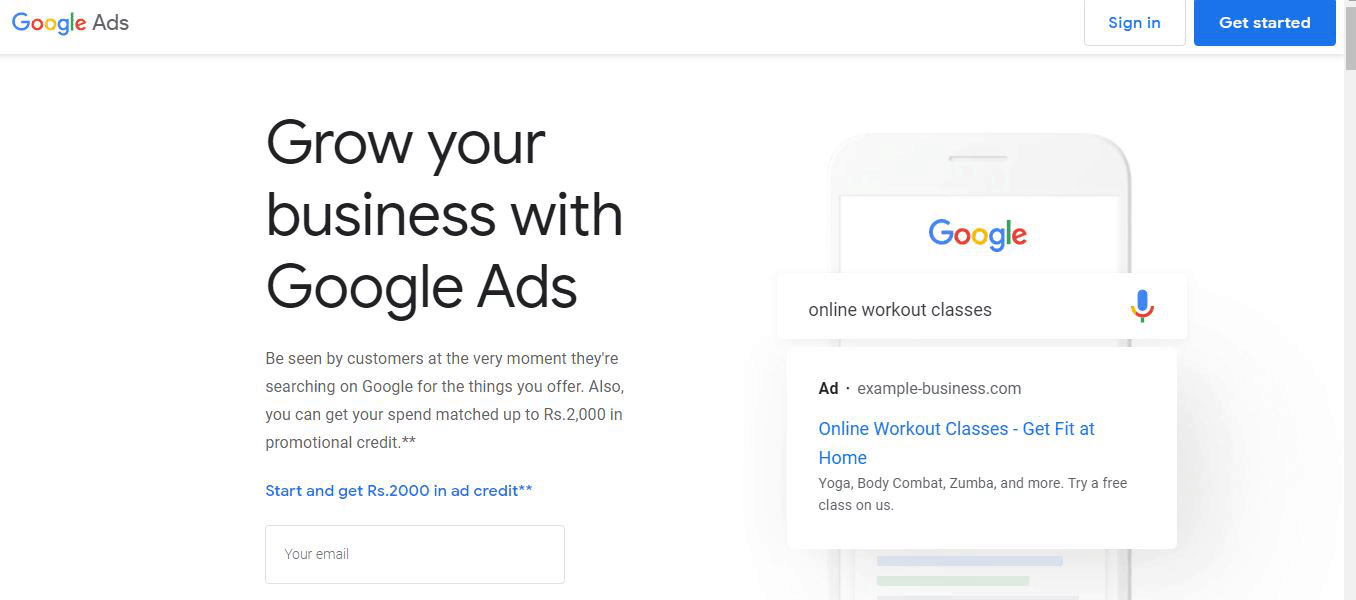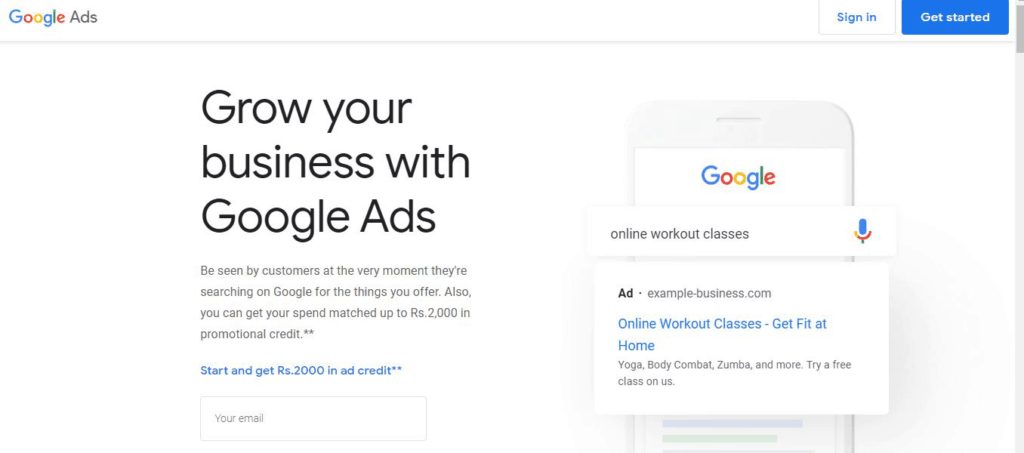 After signing in you can redirect to a page which asks about your advertising goal, but don't click on it and go down here you can find the Switch to Expert Mode option, click on it.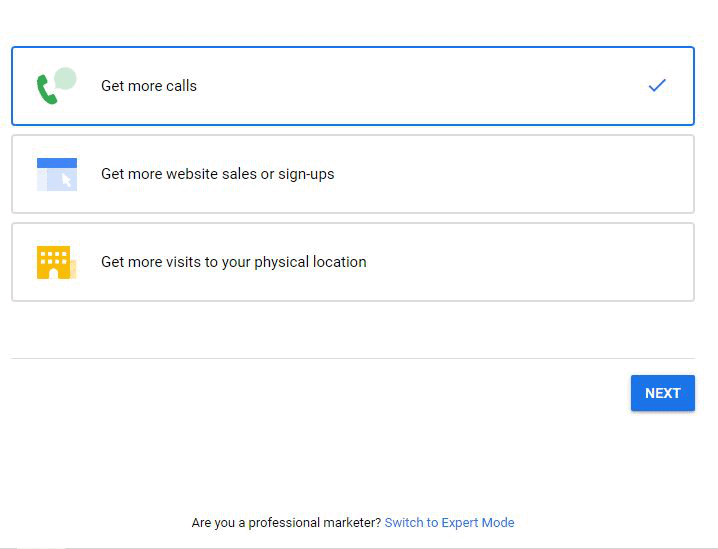 According to your business objective, select one option from Sales, Leads, Website traffic, Product and Brand consideration, Brand awareness and reach, App promotion etc.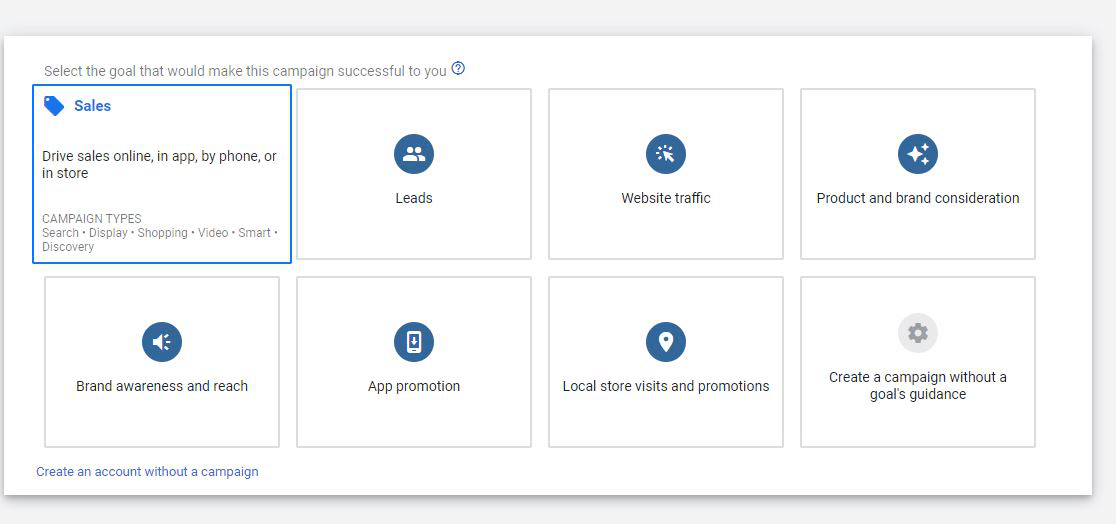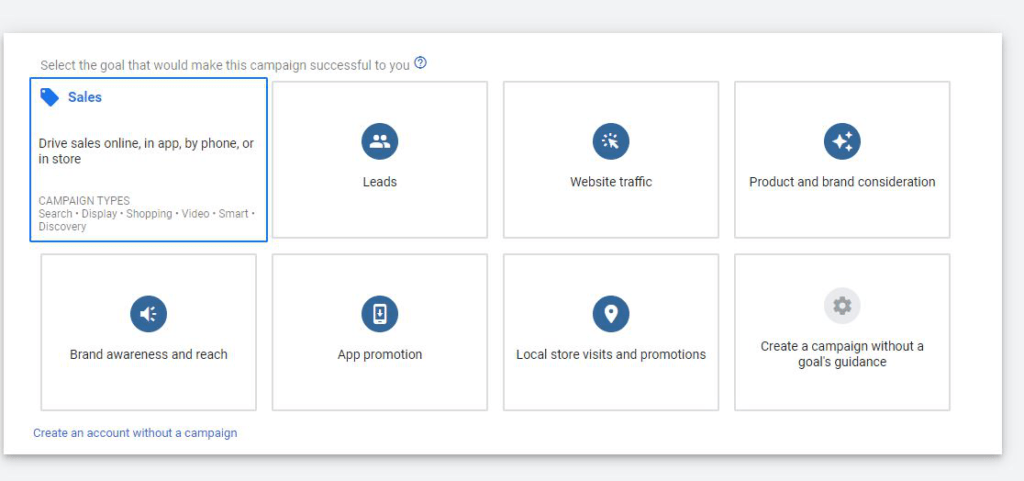 For example, here I am selecting Leads because I want to get more leads for my business. If your business requirement is sales then select sales and run campaigns.
After selecting the Leads option it redirects to select campaign type, here iam selecting a search campaign for my business.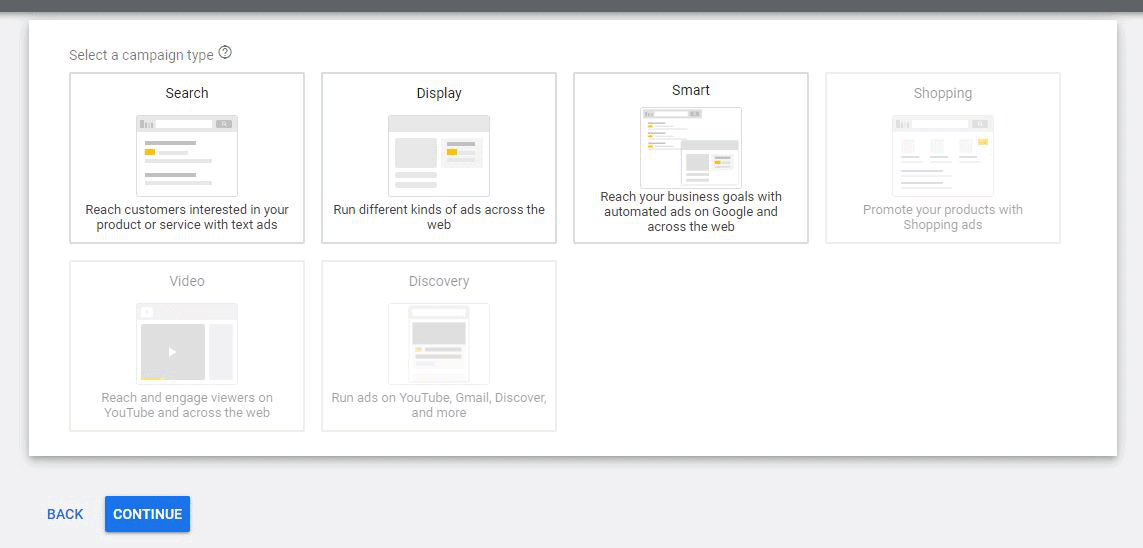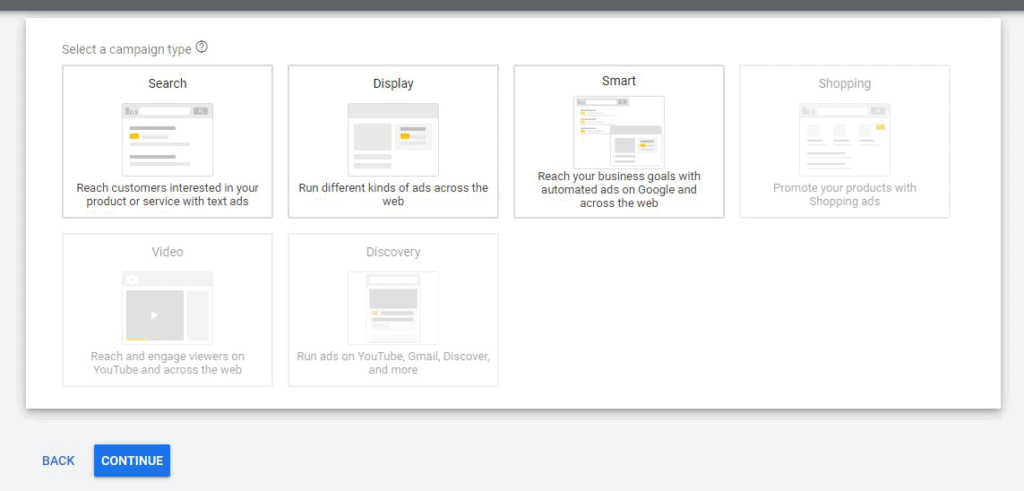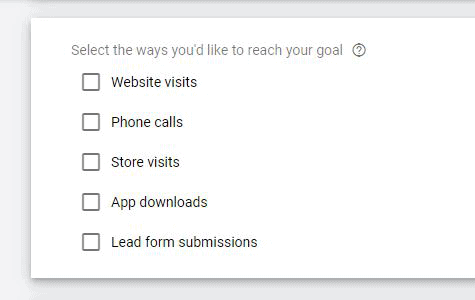 It asks to select the ways you'd like to reach your goal, select one according to your business needs.
Create Conversion action: To know how many leads you're getting from your ad one should create conversion action. Google tracks and show your list of leads.
Click on Continue.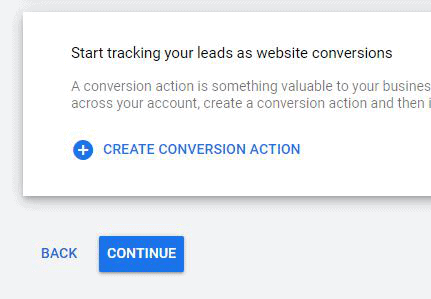 Ad Campaign will be created by 4 major steps:
Select campaign settings

Set up ad groups

Create ads

Set up billing
Step-1 Select campaign settings
Campaign Name- Digital Marketing course in Hyderabad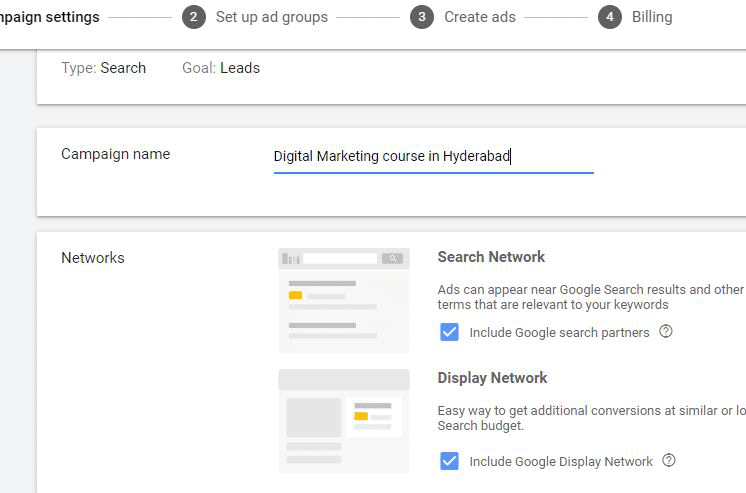 Networks:
Search Network-

If you want to appear your Ad in other search partners then tick on it, or else if you want your ad only on Google then untick it.
Display Network:

If you want your Ad both on search and display networks then tick this or else if you want your Ad only on Google search results then untick it.
Hide more settings: These are additional settings like
Start and end dates

Campaign URL options

Dynamic search ads settings

Ad schedule
These are optional and not mandatory to select.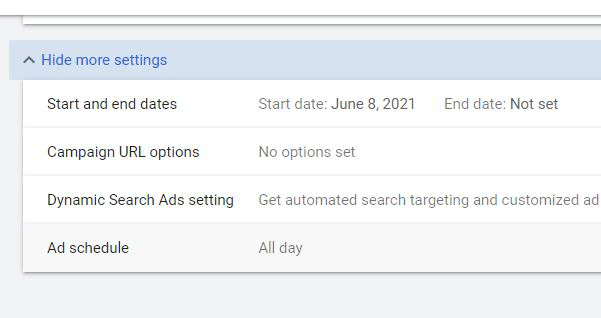 Locations
Select locations to target,
All countries and territories

India-default

Enter another location.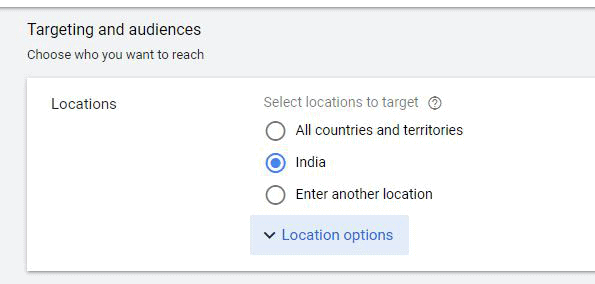 If you are from India it shows by default India, here if you want to show your Ad for entire India then go to search and select a particular city.
For example if you want to show your Ad in Hyderabad then search Hyderabad it shows Hyderabad, Telangana, India city click on it and it is added.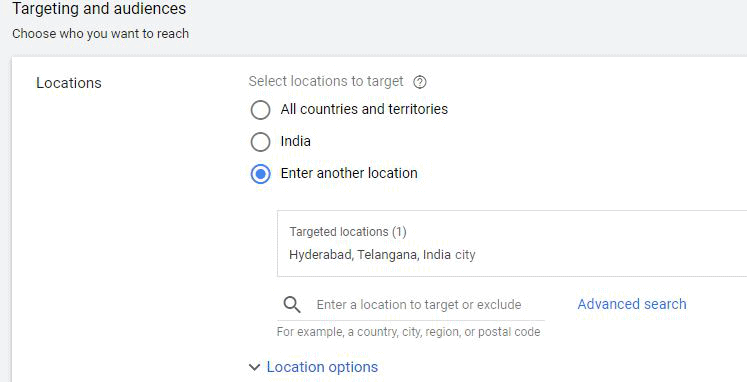 Like this you can add multiple locations, your Ad will be visible only on that selected locations.
Radius
This radius is used to select a particular area in the city. For example if you want to show your Ad only in KPHB area then search for KPHB Hyderabad and select it. Like this you can select multiple locations in the city and also adjust the miles/kilometers too according to your location and then save it.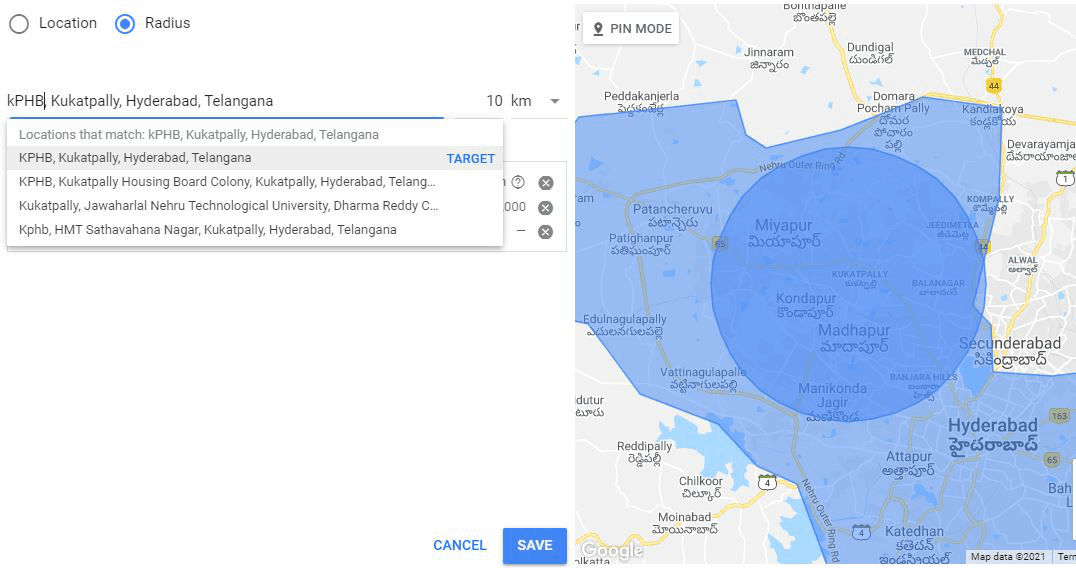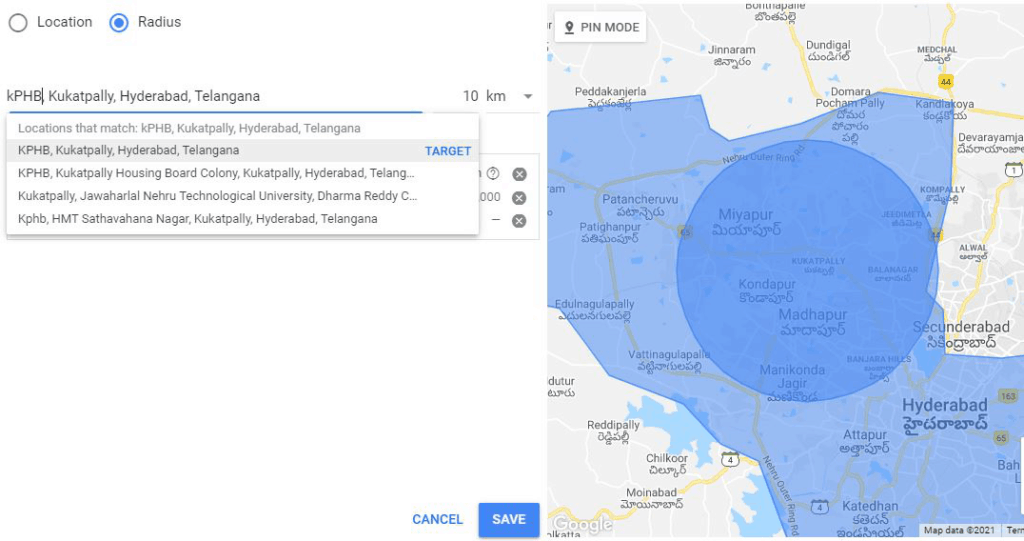 This selection of radius is mainly useful for local businesses like restaurants, pharmacies, spas etc.
Location options
Target:
People in, or who show interest in your target location- default.

People in your target location.

People searching for your target locations.
According to your Ad campaign you can select one option, It is always better to select the first option because 2 options are included in it.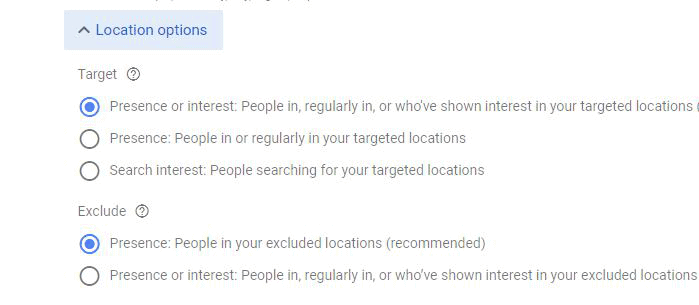 Exclude:  Select one option
People in, or who show interest in your excluded location- default.

People in your excluded  location.
Languages
English-Default
There are so many language options available including regional languages too.

Audiences
Based on your campaign type you can select your audience.
Demographics like gender, age, education, company etc.

Remarketing

Budget and bidding
Budget-  Enter the average you want to spend on each day.
For example if you add 100 rs per day for a total 3000 per month.
It doesn't spend 100 each day, it may cut below 100 or above 100 each day.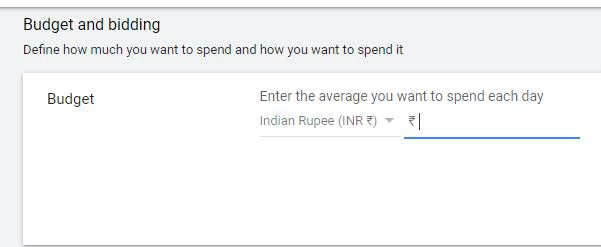 Delivery Method- select one option
Standard- It displays Ads throughout the day.

Accelerated- Within hours the budget is completed and Ad doesn't appear for that day. It is mainly used for one day campaigns.
Bidding
It asks what you want to focus on- Clicks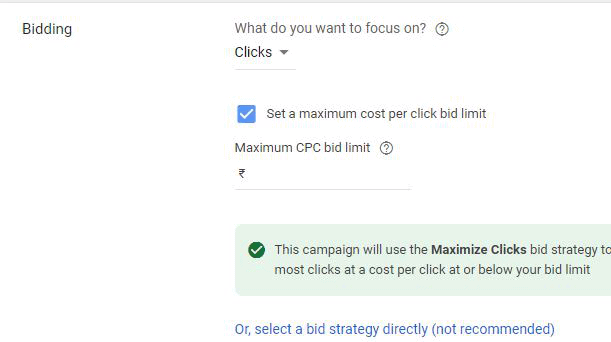 Max CPC bid limit  10  (we don't know how much your competitors bid so If you want your ad to compete with competitors then leave it to google). It is called automatic bidding.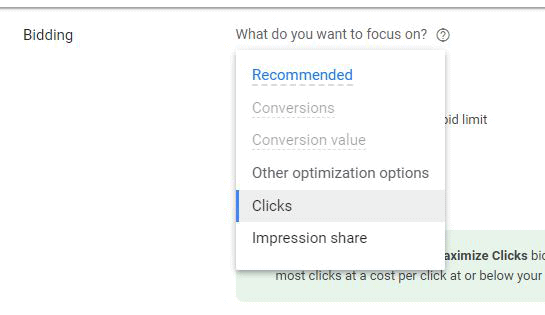 Explanation- Here your daily budget is 100 rs.
Suppose we will keep a max CPC per day of 10.
Then for our budget daily clicks is 10.
Day-1  if we get only 5 clicks then it cuts only 50 rs.
Day-2 10 clicks then it cut 100 rs.
Day-3  15 clicks then it cuts 150 rs.
So like this it cuts the amount based on the number of clicks we get each day. But it does not exceed our monthly budget limit.
Note – These budget amounts are mentioned for an example. You can select your own budget according to your business campaign.
Ad Extensions
Sitelink extensions

Callout extensions

Call extensions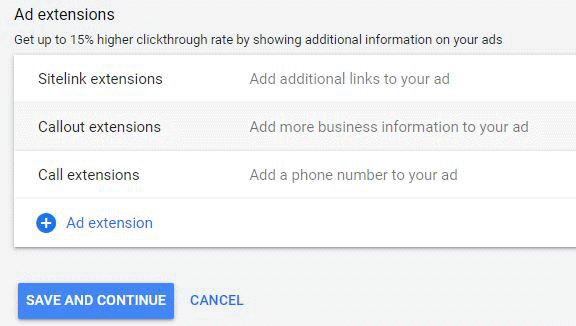 If you want to add any additional information to your Ad then select these options.
After completing all these steps click on save and continue.
Ad group-1 
Ad group name-  Digital Marketing Training in KPHB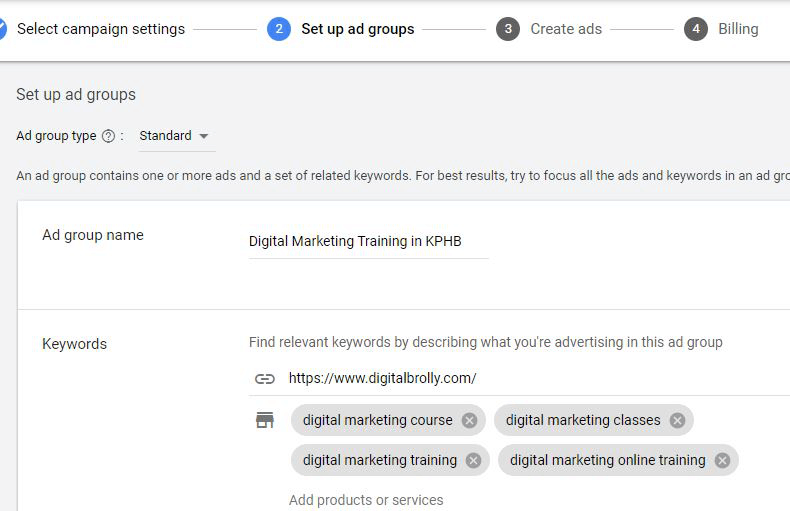 Here add some relevant keywords 
Ex- Digital Marketing course in KPHB
      Digital Marketing institutes in KPHB
      Best digital marketing institute in KPHB
It shows the keyword ideas option, you can click and check for relevant keywords here. Always prefer keyword tools to check the volume and CPC (cost per click) of the keyword.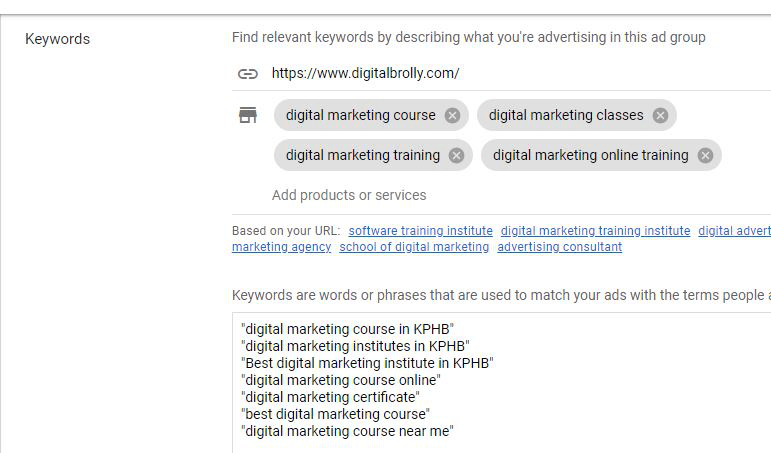 Ad group-2
Ad group name- SEO training in Hyderabad
Same here too, add some relevant keywords
Ex- SEO institutes in Hyderabad
      Best SEO training in Hyderabad
      SEO course in Hyderabad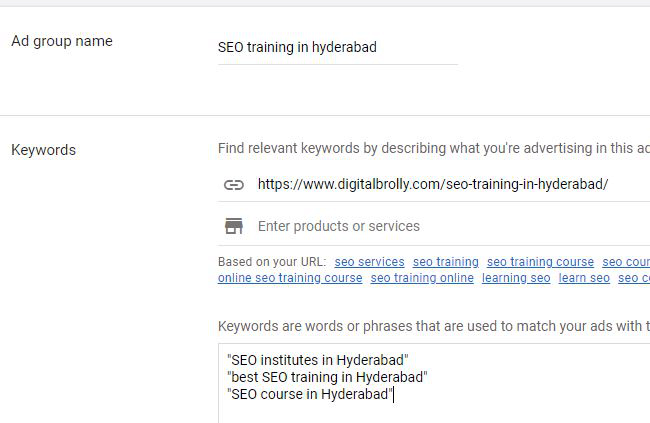 The keywords should be in the phrase match ex-"SEO institutes in Hyderabad") for most of the cases. If you want to then add an exact match keyword also ex- SEO course in Hyderabad.
After completing, click on Save and continue.
2 Ad groups are not mandatory, you can create one or multiple Ad groups.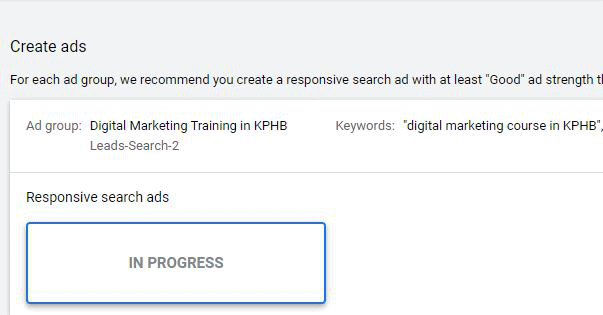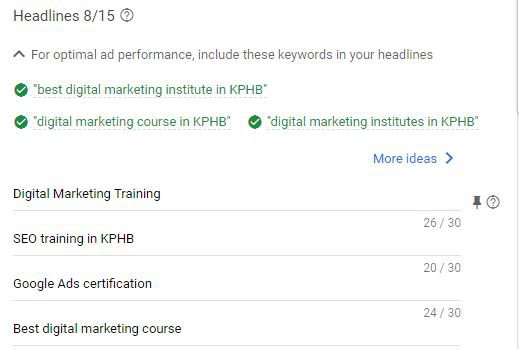 Heading-1  
Heading-2 
Heading-3


Description 1 – Write creative description by using relevant keywords. Character limit is 90. Description 2 – Same as above.
After completing all the details check the preview for both mobile and desktop. And finally click on Done.
Create Ad 2 –  SEO Training in Hyderabad
Final URL- https://www.digitalbrolly.com/seo-training-in-hyderabad/
Heading-1  
Heading-2  
Heading-3  
Display path- You can add any keywords here, it shows beside your ad.
Description 1 – Write creative description by using relevant keywords. Character limit is 90.
Description 2 – Same as above.
Check the preview of the Ad and click on Done.
Click on  Save and Continue.
After completing all the processes, the final process is billing.
We have to fill in the following details for the payment process.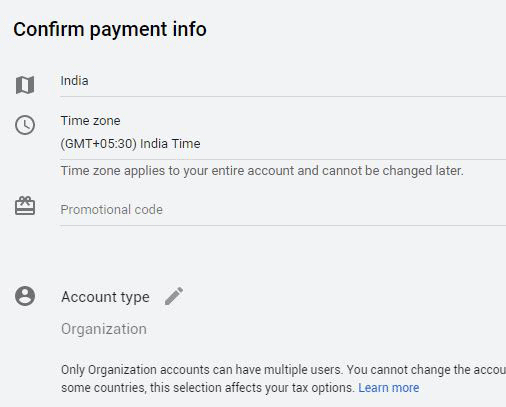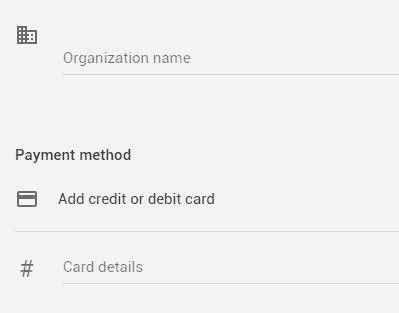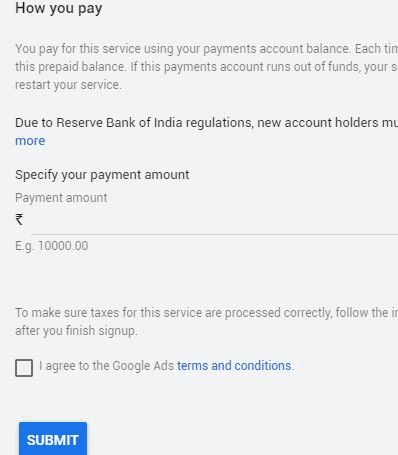 Now the ad will go to google team for review. The Google team checks whether the ad is under Google policies or not, later they approve the ad.
Above data is for explaining the process, you can add all the information according to your type of campaign.
Now you can create your own videos very easily by using Invideo tool with lot of variety templates. Check it out and play around with Invideo.
Free Google Adwords Tutorial - FAQ's