Top 10 Youtubers Income In Hyderabad
Top 10 Youtubers income in hyderabad Who Broadcast Their Interest By Using YouTube
YouTube is one of the largest social media platform all over the world. It is a free video sharing website that makes it easy to watch online videos. It is the second largest search engine after Google. And you'll find all kinds of youtubers here-Cooking, Entertainment, Comedy, Tech etc. due to their interest.  Like wise I posted this article of the top 10 youtubers income in Hyderabad who have more subscribers, views, videos, income from top 1 to top 10.
Ranjit Kumar was born in 1976 in Hyderabad ,India. His Educational Qualifications is B.Com (Honorarium),diploma in computer programming. He studied in the college of  The Center Of Development Of Advance Computing. In 2007 he created a website named Tech2buzz.com and made reviews on the electronic gadgets after that he started an you tube tech channel from Jan 6,2011.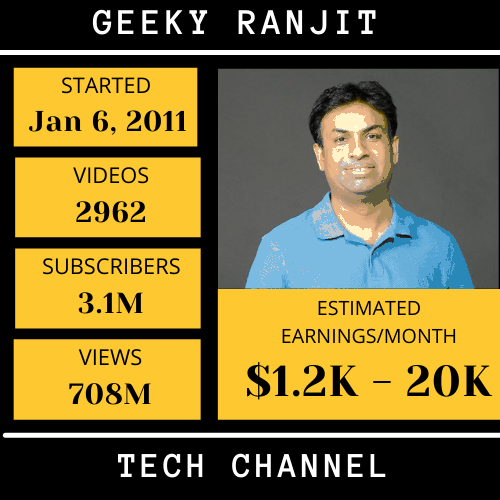 It is one of the Bi-lingual tech channels (Telugu&English) with most subscribed and viewed in India. The channel is about the tech news with his great knowledgeable reviews sharing about gadgets and smartphones.
He has been working with computers for the past 30 years,with his great experience he shares almost each and every feature uses with his reviews in YouTube videos. 
For those who don't have much knowledge about gadgets his videos  are very useful to get to know about the products. He is not only a you tuber he has many specializations as entrepreneur, website developer, gadget reviewer, programmer, technews updater.
Today he is listed one of the famous tech youtubers in India and he awarded from youtube both gold and silver play buttons, presently he reaches 3million + subscribers in youtube with the overall 708,505,428 views.
His estimated monthly YouTube income is about 2lakhs to 25 lakhs and estimated yearly earnings is 30 lakhs to 4 crores.
We will inspire from the Ranjith's bio how he grows from his childhood with his passion and Hard work. At earlier he he got just 1400-1700 subscribers in 1st year later on gradually he keep on uploaded videos everyday.
Slowly he improved their subscribers growth with uploading more videos with his outstanding content and hard work now he is in top list of tech you tubers in India with his dedication.
Shanmukh's full name is shanmukh jaswanth kandregula and his nickname is shannu from childhood onwards he loves acting he plays many dramas and performances in his school and college days.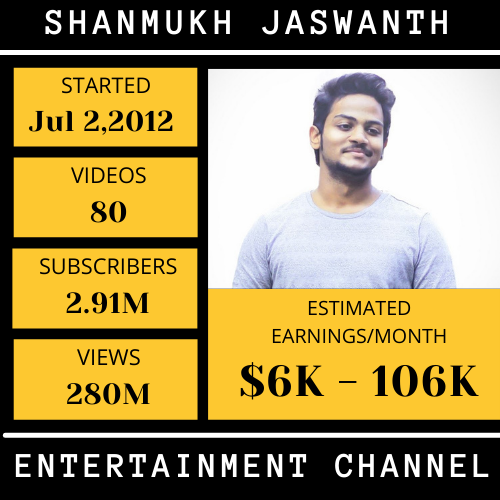 He was born on 16 september, 1994. His age is 26 years. His hobbies are dancing, acting. He is from Hindu religion. His educational background B.tech in Gitam college in Vizag. He loves dogs. He have his own car Hyundai Creta.
He is the most hard working person when coming to his passion, he once told in one of the interview that when he used to start acting he didn't get fame for many years and after the short film viva he has decided to go back to Vizag, since he couldn't find many opportunities here.
But his friend subbu said about the software series and asked him to act on that movie shannu decided to act and within days he cant believe that he gets that much success achieved.
He is leading many opportunities are running for shannu, with this we will get point from this is we have to work until the time comes never turn back until you achieve.  
He is very passionate about acting. His native place is Vizag. He is one of the famous Hyderabadi youtuber with 2.88  million +  subscribers and he get overall 277,702,429 views and he was joined on you tube. 
His monthly estimated earnings is about 2-5 lakhs.
His favorite actor is suriya. He is popularized with one dialogue "Arey entra idhi". He has huge fan following in Instagram with 1.2 million + subscribers. His debut is Cadbury laddu ad.
Now he is very familiar with web series .He get craze on viva series in his you tube videos. Later on he get stunned fame on Software developer series. He get a lakhs of views within one day. 
He was born on 26 April 1970 in Hyderabad, Telangana. His educational background is Diploma in Hotel Management. He studied at  Institute of Hotel Management. 
Along with cooking, he loves travelling and he is married to Ragini Thumma and he has two children a son and a daughter.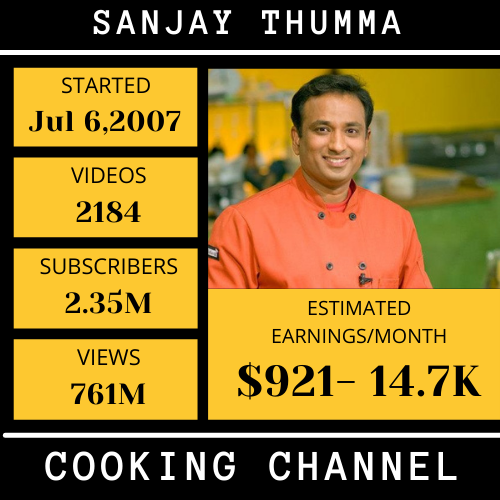 Thumma built his first restaurant in 1998. Later to follow his passion as a chef he had to sell the 3 restaurants that he had built. He later got a job as a chef at a renowned restaurant. 
Later he started an YouTube channel on 2007 Vahrehvah and he posted 100-150 videos on his YouTube channel. He get a good response for his videos and he became a fame and he gain many following from Indian communities all over the world. 
He crossed 760,833,762 views and 2.34 million plus subscribers and more than 2100 videos.
He adds 4 to 5 videos every week and he gets thousands of views within hours. In 2008 he launched a website Vahrehvah.com.
 In 2014 his channel had 1.45 million plus subscribers and as of now in 2021 he has over all 2.34 million +subscribers.
Ruhaan was born on 18 February 1998. He is a Hyderabadi, Telangana, India. He is a YouTube actor. His educational background is Degree. He studied at Pratibha Degree College.
He was popularized by one song called "Miya Bhai Hyderabadi". His favorite colors are red and blue.  And he relishes non veg items and his favorite food is Hyderabadi biryani.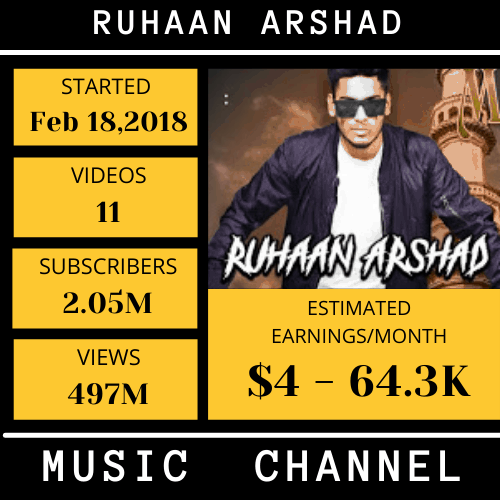 His favorite actors are Sanjay Dutt and Alia Bhatt. His favorite rappers are Millind Gaba, Daddy Yankee, MC Stan, Russ etc.
Ruhaan started a YouTube channel with his own name as Ruhaan Arshad Official on February 18,2017. From 2017-2021 he got 2.04 million + subscribers and 492,219,318 views.
He is very passionate about writing lyrics and is a good singer .He is very active on Instagram with 217 posts and 133000 followers.       
For the song Miya Bhai he got a lot of fame. Although he has  posted 11 videos, he gets more popularity for his songs. 
His Youtube income is 8-15 lakhs per month.
He is in the age of 21 although he is very dedicated about his interest to improve his better career and passion with his hard work by writing lyrics and songs.
For any business queries contact Ruhaan at 8686012534.
Email him at:ruhaanarshad2929@gmail.com
Mahathalli as Jahnavi Dashetty was born on 7 September 1991 in Hyderabad. Her schooling was at St.Joseph School, Kurnool and she completed her graduation at NIFT, New Delhi. She married Sushanth on 1st July 2018.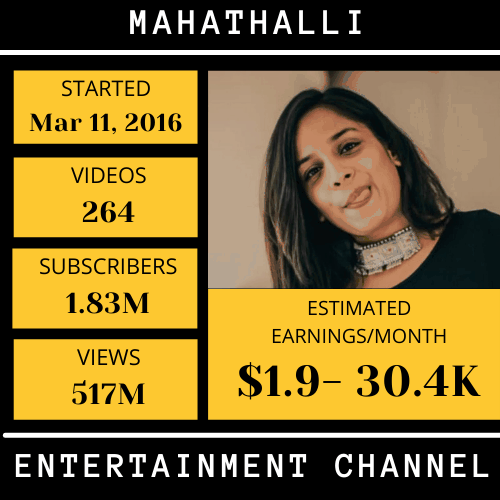 Jahnavi is popular with the name Mahathalli. She is the most famous telugu female You Tuber and short film actress in Hyderabad. She uploaded her first video "Mahathalli- Mahanubhavudu" a comedy web series on her YouTube channel Mahathalli. mahanubhavudu"on her you tube channel Mahathalli.
She has acted in many TV shows impressing everyone with her expressions, acting, and sense of humor. Later she decided to be a You Tuber and started a YouTube channel named as Mahathalli and she got a huge response from her lovable acting and comedy videos. 
She acted with many actors in her channel and she collaborated with many celebrities in her vlogs and entertained the audience with her videos.
She started another YouTube channel Leo and Fam which presents her pets and her daily lifestyle. In this channel she has 135k subscribers and 15,319,963 views. This channel is all about fashion /lifestyle/travel videos.
Her most famed channel Mahathalli has 1.82 million + subscribers and 514,772,010 views with 263 videos and it was started on March 11,2016.
She started another YouTube channel Leo and Fam which presents her pets and her daily lifestyle. In this channel she has 135k subscribers and 15,319,963 views. This channel is all about fashion /lifestyle/travel videos.
Her most famed channel Mahathalli has 1.82 million + subscribers and 514,772,010 views with 263 videos and it was started on March 11,2016.
This channel was started by two local boys named Abrar Khan and Shah Rukh Khan. In this channel they describe the Hyderabadi lifestyle, traditions and customs and its funny descriptions with usage of dakhani language. They became a major hit among youngsters in Hyderabad city. . She married Sushanth on 1st July 2018.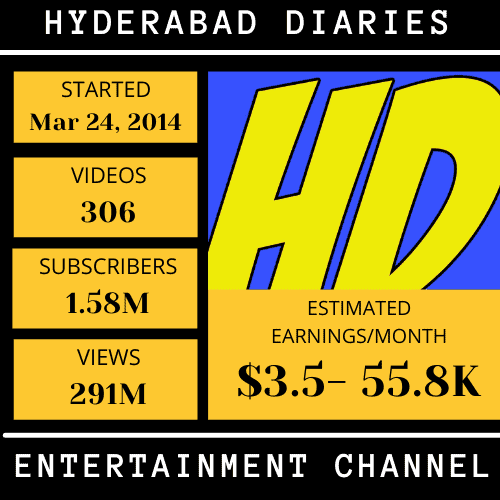 It is one of the most famous YouTube channels in Hyderabad. It has 1.57 million+ subscribers with 286,756,886 and it was started on March 24, 2014. This channel explains all about Hyderabad and its beauty..
It showcases the city of  Hyderabad in its vlogs for those who want  to see all about Hyderabadi culture and its local people & their daily lives.
It shows the difference between Hyderabadi and normal persons living in the city who are not able to live in the city and who are missing spending time here. They can enjoy their missing space in this channel and have fun with them.
It covers all comedy, fashion, songs, entertainment & various. random vlogs.
It is a platform for independent bloggers who are interested in engaging with audiences and readers with the help of Wirally.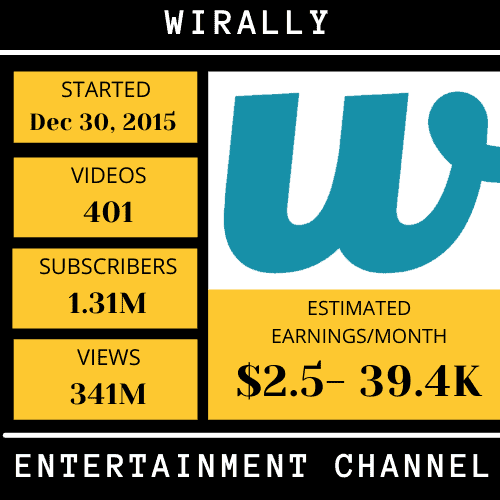 It is linked up with many independent creators. It has over 1.31 million+ subscribers and 396 videos with 338,462,915 views.
This channel is for the Telugu web series & short films. It is the signature product under Tamada media and it is one of South India's fastest growing digital networks. 
Here you can view many short film videos with different actors. Every week it releases new videos with interesting content.
Wirally has subscriptions with Rowdy Fellow, Kaasko, Mahathalli, Cut Chesthe, Dhethadi, Green collar Gaming, Sandeep Maheshwari, Third Eye Productions, Pakkinti Kurradu, Racha Gang.
Vinay Kuyya is a famous social media star in Hyderabad and he is one of  the most popular pranksters in Hyderabad. 
Firstly Vinay and Gopal started this channel on December 25,2015 and after the hard work of these two persons with Shalini, they made different types of dare videos and improved their subscribers list and views slowly to grab the success. Recently they reached 1 million subscribers .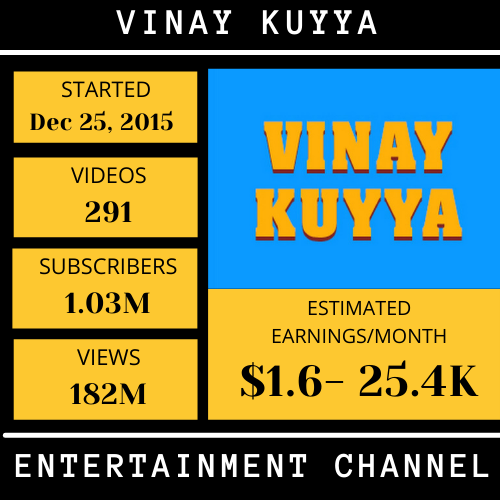 Vinay Kuyya is from a software background. But due to interest in social media he left that job and he started his career in social media. After many efforts he slowly improved their growth in social media. He is married to Usha and they have a son.
His channel's main motto is to entertain people with their dares, pranks and comedy skits. They started their YouTube channel on December 25, 2015 after many years of struggling they reached 1.03 million + subscribers with 180,293,027 views.
He has a huge following on Instagram with 101K followers with 791 posts. He is deemed as one of the popular influencers in India. 
His channel is especially famous for social experiments and extreme dares. Vinay ,Gopal and Shalini are the main leads of this channel for all videos that go through this channel.
Lasya is the creator of the YouTube channel Lasya talks. Currently she is quite famous with this channel. Lasya is one of the famous female You Tubers in Hyderabad. She is a model, actor, TV presenter, anchor. She received many awards and honors for her performance.
Here are some of her awards Padma Mohana Arts Theatre Award For The Best Female Video Jockey in 2014, Zee Kutumbam Award For The Best Anchor in 2014, Best Female Anchor Award For Something Special etc.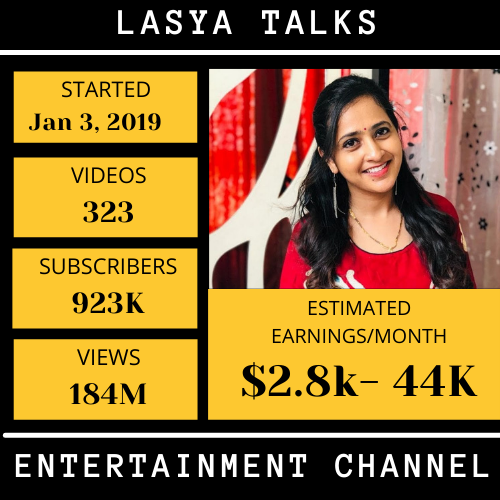 She was born on 27th August,1989. Her native place is Tirupati City. Presently she settled in Hyderabad. She is 33 years old. Her zodiac sign is Leo. Her educational qualification is B.tech. She studied at Chaitanya Bharathi Institute Of Technology, Hyderabad. 
She married Manjunath Chillale on 17th Feb, 2017. They have a son. She has a pet dog 'Twinkle'. She lives in a joint family. She came to Hyderabad to study at Chaitanya Bharathi College. Later she got a job in Google, while doing her job she acted in many TV shows as an anchor in Gemini music, Maa Music, Maa TV etc.
Her debut film is Raja Meeru Keka and she acted in many films. She got fame from her Something Special TV show on Maa Music with co host Anchor Ravi. She is booming now with YouTube channel Lasya Talks. It has over 900 million + subscribers with 320 videos and 182,353,150 views.
She started this channel on Jan 3,2019. Within three years she reached a count of 900 million + subscribers. She entertains with the cooking ,travel, shooting, day vlogs in her YouTube channel. And she has another channel Mr&Mrs Lasya Manjunath, in which both Lasya and Manjunath will be doing some short entertaining videos.
She was seen in many TV shows like Mondi Mogudu-Penki Pellam, Dhee, Maa Voori Vanta etc. In 2020 she appeared in Big Boss(Telugu), a reality show hosted by Nagarjuna.
She was good with her presence in that show and she rose to fame with friendly & strong bonds with Noel, Abhijeeth and Harika. She expressed many feelings, emotions on that show. After playing for 11 weeks she came out from the Big Boss. Later, she got a chance to participate in a TV show after many years in the Maa TV with Ravi in Beautiful Looks.
After  Big Boss, she owns a car, Mahindra XUV500. Presently, she is close to reaching 1 million subscribers and she is doing well with her YouTube videos with good videos.
Aamer Bin Ishaaq is one of the top YouTube stars in Hyderabad. And his channel's name is Baigan Vines .It was created on September 29,2014. It has 789k subscribers with 132,129,711views. This channel created 239 videos.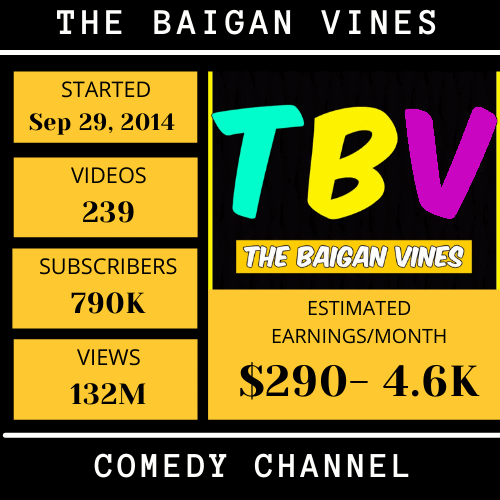 He was born in Saudi Arabia, Jeddah. Later he settled in Hyderabad. He was born on February 9,1994. His profession is YouTube content creator. His star sign is Aquarius. His brother's name is Mohammed Bin Ishaaq, who is also a comedy star of Baigan Vines official channel. 
His estimated net worth is $1 million -$5 million dollars.
He has another you tube channel Baigan Vines Extras. Along with Aamer Bin Ishaaq, Baigan Vines Official channel is growing with the team of Ossama Tipu, Mohammed Bin Ishaaq, Mohammed Zeeshan, Syed Farhan.
They are very creative and humorous with their hilarious video contents.
The channel is rocking where all about Dakhani language and amusement go hand in hand. They combine the two by creating short videos and putting them in the civic polls, we have a powerful tool for reaching out to the young electorate.
We have the listed the Top 10 youtubers Income in Hyderabad. These incomes are just estimates and could vary from their actual incomes.
If you know any youtubers income in hyderabad please let us know through the comment section below.
Want to become an YouTuber and Earn Money from Youtube? You can enroll for YouTube Training in Hyderabad course at Digital Brolly.
Here are list of Top 10 Digital Marketing Agencies in Hyderabad